James Chapter 2 Answers


DAY ONE
Questions and Answers
1.  What is it about man that makes us uncomfortable with situations such as this?  Why do we show partiality based on outward appearances?  Why do we make assumptions and judge people by what we see?  Read Luke 18:10-14. 
Does the story Jesus tells in this scripture provide an idea or clue as to the reason that we might not treat others the same?  What is it?

This story is almost the same as the story in James chapter two. The two stories are the similar and appropriate for comparison because both are stories where the judgment of one by another is seen as wrong when both have come to worship God in the same assembly.

The clue is given by Jesus in verse 14. He tells us that the Pharisee exalted himself and was not humble, but was as a result of his self-exaltation, he will be humbled; and in contrast, the one who humbles himself will be exalted.

When we take on the humble attitude of Jesus that he provided for our example, we will not esteem ourselves more highly than we ought. Let's look at this in the Book of Philippians, Chapter 2 from the NIV:

Philippians 2:1-11
1 If you have any encouragement from being united with Christ, if any comfort from his love, if any fellowship with the Spirit, if any tenderness and compassion, 2 then make my joy complete by being like-minded, having the same love, being one in spirit and purpose. 3 Do nothing out of selfish ambition or vain conceit, but in humility consider others better than yourselves. 4 Each of you should look not only to your own interests, but also to the interests of others. 5 Your attitude should be the same as that of Christ Jesus: 6 Who, being in very nature God, did not consider equality with God something to be grasped, 7 but made himself nothing, taking the very nature of a servant, being made in human likeness. 8 And being found in appearance as a man, he humbled himself and became obedient to death-- even death on a cross! 9 Therefore God exalted him to the highest place and gave him the name that is above every name, 10 that at the name of Jesus every knee should bow, in heaven and on earth and under the earth, 11 and every tongue confess that Jesus Christ is Lord, to the glory of God the Father.

2.  Do you wear your best available clothing for church services? Do you pay more attention to what you wear to church compared to other events?  Why or why not?

Your Answer Here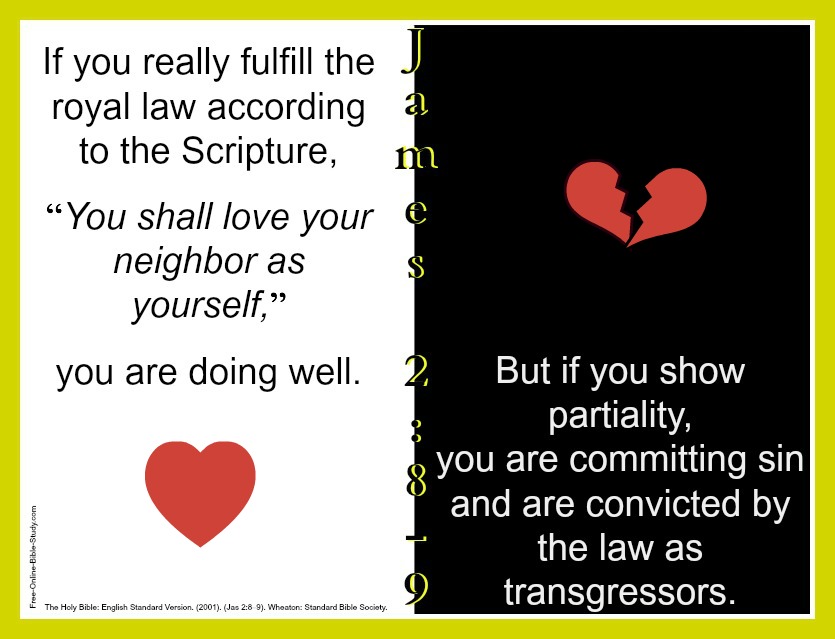 DAY TWO
Questions and Answers
1.  For the following verses from James Chapter 2, what are the arguments James provides for not showing partiality:
Verse 4:Judgment based on outward appearance is discrimination
Verses 5 through 7:God honors the poor why don't you, why honor the rich who don't honor God?
Verses 8 through 13:It is a sin and it is unlawful both of the traditional law and Great Commandment

2.  James Chapter 2 the author reminds his readers who were typically poor, that the rich are exploiting them, dragging them to court, and slandering the noble name of Jesus Christ.  Is James encouraging his poor brethren to disrespect the rich members of the assembly?  Why or why not?

No, he is encouraging the believers to not show favoritism. According to the Life Application Study Bible: James reminds that it is ironic that these supposed winners may have gained their impressive lifestyle at the expense of the poor, and that the rich often find it difficult to identify with the Lord Jesus, who led the lifestyle of a humble servant. In effect, James is asking the believers: "Are you really impressed with these people?"

James is encouraging them to follow the royal law found in Scripture and shown in verse 8 "Love your neighbor as yourself".

The Life Application Study Bible explains that it is wrong to show favoritism to the rich because:
It is inconsistent with Christ's teachings
It results from evil thoughts
It insults people made in God's image
It is a by-product of selfish motives
It goes against the biblical definition of love
It shows a lack of mercy to those less fortunate
It is hypocritical
It is sin
DAY THREE
Questions and Answers
1.  How can you be guilty of the whole law when you only break one point of the law?  Why it say in James Chapter 2 verse 10 that if you offend in one point or you break just one law you are guilty of the entire law?  What is the point of James Chapter 2 verses 10 through 13?

When you are guilty of one transgression of God's law you are guilty to the same degree of all laws that God has given us. Sin is sin. Breaking any of God's commandments always yields the same result - broken fellowship with God which is sin. The point James is telling us is that we cannot say we have fellowship with God and yet we do not have fellowship with other believers. This is grounded in the great commandment that we are to love our neighbors as ourselves.

James contrasts the proper conduct of loving one's neighbor as oneself in verse 8 with the improper conduct of partiality in verse 9. Where partiality occurs we are obviously guilty of disobedience to the Great Commandment to Love God and Love Our Neighbors as Ourselves.

2.  Was there ever a time in your life where you were loved by someone that would demonstrate the idea of "love your neighbor as yourself"?

Your Answer Here
DAY FOUR
Questions and Answers
1.  Does the second half of James Chapter 2 say that one is saved by works or good deeds and not by faith?  What is the main point of the second half of James Chapter 2?

No, James is saying that faith alone or by itself is not indicative that one is saved. Look at verse 19, James points out that even the demons have faith that God exists. The main point is that faith that God exists and a mental acknowledgement that God exists is simply not enough. We have to make Jesus Christ LORD in our lives. We have to be sold out to Him and when we do that our good works will follow. Look at the example that Jesus gave us of his servant leadership.

2.  Considering the main point, if you were to choose the main verse or phrase of James Chapter 2 verses 14 through 26, what would it be?

One Man's Opinion:

James Chapter 2, verse 24: James 2:24 Ye see then how that by works a man is justified, and not by faith only. That is NOT to say that works justifies anybody. But it is clear from verses 17, 20, 22, and 26 that faith always is followed by works as a testament to the authenticity of the faith. Please don't be quick to judge your brothers and sisters in Christ by what you see and regard as their "works". The best servants are often behind the scenes and are works are only known by God Almighty. They are humble and wish to remain anonymous because they know that all the glory belongs to God the Father.
DAY FIVE
Questions and Answers
1.  What did Jesus Christ teach us about the concept of faith and works? Please cite a Scriptural example.

While it is often proper to remain anonymous for your good works, Jesus tells us to let our lights shine before men. Why? So God will be glorified - That is always the objective of true faith - to let your light shine, to let your works be known - so that God will receive the glory.

Matthew 5:14-16
14 Ye are the light of the world. A city that is set on an hill cannot be hid. 15 Neither do men light a candle, and put it under a bushel, but on a candlestick; and it giveth light unto all that are in the house. 16 Let your light so shine before men, that they may see your good works, and glorify your Father which is in heaven.

Jesus also taught us that we will be known by our fruits. Believers will bring good works and unbelievers will bring bad works.

Matthew 7:16-20
16 Ye shall know them by their fruits. Do men gather grapes of thorns, or figs of thistles? 17 Even so every good tree bringeth forth good fruit; but a corrupt tree bringeth forth evil fruit. 18 A good tree cannot bring forth evil fruit, neither can a corrupt tree bring forth good fruit. 19 Every tree that bringeth not forth good fruit is hewn down, and cast into the fire. 20 Wherefore by their fruits ye shall know them.

Jesus said the treasure of your heart will determine whether your works are good or evil.

Matthew 12:33-35
33 Either make the tree good, and his fruit good; or else make the tree corrupt, and his fruit corrupt: for the tree is known by his fruit. 34 O generation of vipers, how can ye, being evil, speak good things? for out of the abundance of the heart the mouth speaketh. 35 A good man out of the good treasure of the heart bringeth forth good things: and an evil man out of the evil treasure bringeth forth evil things.

2.  Besides Abraham and Rahab, who from Scripture best illustrates this concept of faith with works, i.e. works in the sense of good deeds?  How or why did you choose this person's life as your citation?

One Man's Opinion:

Noah was faithful and performed great works

Joseph was faithful and also accomplished great works

But Jesus Christ was the man I think did the greatest works - works in the sense of good deeds. He always did his father's will. He fed thousands of people, he healed many of demons, he healed the sick, but more than anything else He did the greatest deed ever done and that ever will be done.

He died for all mankind that all who will call upon the Lord will be saved. He died for all yet he had no sin. He died for my sins and for your sins. This is the greatest deed - this is the greatest good work that has ever been done. No other good deed will ever come close to marching its kindness, selflessness, or love.

Our kindest deed just could be to tell others about it.
DAY SIX
Questions and Answers
Does James' statement in James Chapter 2 verse 18 that one can demonstrate his faith by his works contradict Paul's statement in Romans 3:28 that a man is justified by faith without the deeds of the law?

The MacArthur Study Bible offers the following explanation:

This does not contradict Paul's clear teaching that Abraham was justified before God by grace alone through faith alone (see Romans 3:20 and 4:1-25; Galatians 3:6,11). For several reasons, James cannot mean that Abraham was constituted righteous before God because of his own good works:

1) James already stressed that salvation is a gracious gift (James 1:17-18);

2) In the middle of this disputed passage (verse 23), James quoted Genesis 15:6, which forcefully claims that God credited righteousness to Abraham soley on th basis of his faith;

3) The work that James said justifies Abraham was his offering up of Isaac (Genesis 22:9,12), an event that occurred many years after he first exercised faith and was declared righteous before the Lord (Genesis 12:1-7; 15:6).

Instead Abraham's offering of Isaac demonstrated the genuineness of his faith and the reality of his justification before God. James is emphasizing the vindication before others of a man's claim to salvation. James teaching perfectly complement's Paul's writings; salvation is determined by faith alone (Ephesians 2:8-9) and demonstrated by faithfulness to obey God's will alone (Ephesians 2:10).