Book of James Bible Study
This Book of James Bible study is offered in five weekly lessons.  It covers a chapter a week for five weeks.  Each chapter study is further broken down into six sets of daily study questions.  Typically there are 2 or 3 questions per day.  
This Bible study is designed for small groups.  The idea is to work with a partner (or individually) to answer the questions and then meet in the small group setting to discuss and share your answers.
Ideally there's a leader who facilitates the discussion and leads the group.  
The Book of James is interesting and different from the Epistles of Paul.  

There're many who say the book is the Proverbs of the New Testament because of the many exhortations for proper Christian behavior.

We trust and pray that you'll enjoy the study.
Feedback On Our Bible Studies
Your questions continue to be challenging and allow one to dig deep in their spirituality to come up with the answers.  Continue to be a challenge to God's people.  Thanks very much for this opportunity to study the Bible.  It has been a big help to me.
                                                                                            Sheron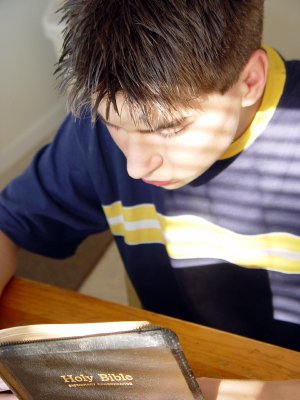 About James
James was remarkable in several ways:

the way he lived his life
the position he held in the first century church
who he was related to in a physical and spiritual sense
author of one of the great books of the Bible 
his reputation
the way he died
Yes, James is an interesting man to study.  As fellow Christians, we could all learn a lot about James by simply reading the Book of James.  
We pray that this Book of James Bible study blesses you and inspires you to become more like the man James admired most, the Lord Jesus Christ. 

Click here to learn more about James.

Choose a Chapter to Begin Your Book of James Bible Study.


-- In this study of James chapter 1, learn how Christians are to deal with trials and temptations that undoubtedly will come our way. Also learn that we're to be not only hearers, but doers of the Word of God.

-- In this Bible study, learn about the dangers of personal favoritism and that faith without works is dead.  Does this contradict what Paul said about justification by faith? 
-- This is the chapter of the Book of James that tells us about our unruly tongues and teaches us the difference between man's wisdom and God's wisdom. 
-- In this study of James chapter 4 we learn of the problems with pride, the judgment of others, and boasting.  Learn the biblical standards in contrast to these worldly standards.
-- In this final study of James, learn about God's view of rich oppressors in this life; and therefore what our attitudes should be, how  we can persevere with patience, and how we can cover a multitude of sins.  Also learn exactly what to do when we are sick.
We pray that God Almighty blesses you with a deeper understanding of His Holy Word; and therefore Himself, as you work in these Book of James Bible Study pages.
---
References for this Bible Study included:
Richardson, Kurt A. James. Vol. 36. The New American Commentary. Nashville: Broadman & Holman Publishers, 1997.
Lexham Press. Logos Bible Software Infographics. Bellingham, WA: Lexham Press, 2009.
Moo, D.J. in Zondervan Illustrated Bible Backgrounds Commentary. Vol. 4. Zondervan. Grand Rapids, MI: 2002.

Moo, Douglas J. The Letter of James.  The Pillar New Testament Commentary. Grand Rapids, MI: Wm. B. Eerdmans, 2000.  
---
---