Answers for
James Chapter 1
DAY ONE
Questions and Answers
1.  James addresses his readers as the twelve tribes.  What are two other ways he addresses them here in James Chapter 1?  One is a term of affection and the other is a vision of what they should become.
1 - brethren, as in these four verses:
Vs 2 - My brethren, count it all joy when ye fall into divers temptations
Vs 9 - Let the brother of low degree rejoice in that he is exalted
Vs 16 - Do not err, my beloved brethren
Vs 19 - Wherefore, my beloved brethren, let every man be swift to hear, slow to speak, slow to wrath
2 - A kind of Firstfruits of God's creation, as in verse 18
Vs 18 Of his own will begat he us with the word of truth, that we should be a kind of firstfruits of his creatures.

2.  In James Chapter 1 verse 2 we are told to consider it pure joy when we are surrounded by temptations.  This is not a new idea at all for Christians.  Paul said in Romans 5:3 that we should glory or be joyful in our tribulations.  In the Sermon on the Mount Jesus said:

11 Blessed are ye, when men shall revile you, and persecute you, and shall say all manner of evil against you falsely, for my sake. 12 Rejoice, and be exceeding glad: for great is your reward in heaven: for so persecuted they the prophets which were before you. Matthew 5:11-12

We are not talking here only of our choices here, but of our attitudes and mindset toward the inevitable temptations we face in life. From the readings of Matthew 5:11-12, Romans 5:1-5, and James 1:2-4, how can we be joyful when we are tempted?

We can be mindful and patient (as in James 1:2-4 and Romans 5:3-5) for our reward in heaven (as Jesus reminds us in Matthew 5:12) which can give us great hope and joy because of the love of God which is manifest in us through the Holy Spirit


3.  If you were to flowchart or map the words or concepts of James Chapter 1 verse 3 and Romans Chapter 5 verses 4 and 5 that are related it could look something like the chart below.

Fill in the blank with the concept keywords from the verses as they build upon one another from left to right.  What is the power that allows these concepts to work together and what is the end result?


Click Here to Compare Your Chart

The love of God and the Holy Spirit is the power that allows these to work together (Romans 5:5). The end result is that we may be perfect and entire, wanting nothing (James 1:4).
DAY TWO
Questions and Answers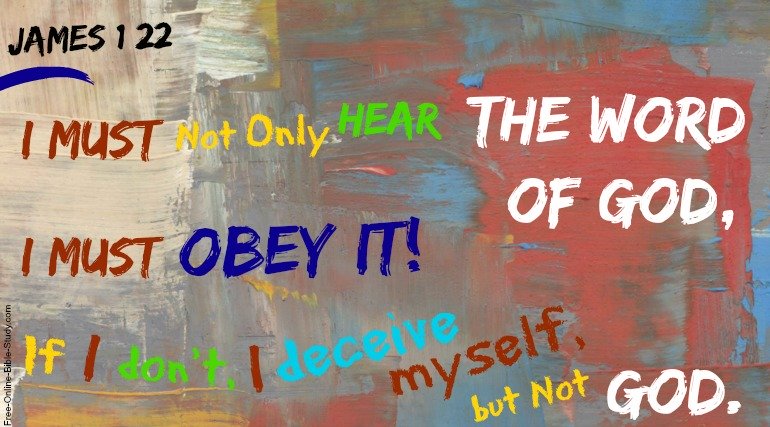 1.  James Chapter 1 verse 12 brings up the topic of trials or temptations we saw in verses 2, 3, and 4.  The types of temptations and trials we face as Christians are either self-imposed or brought about by others.  They can be in the form of persecutions by others for our faith; trials of our circumstances in this life such as poverty, sickness or disease; temptations to sin against God by thinking, saying or doing things that are contrary to His Word; or simply choosing to please ourselves rather than the God who created us and loves us. 


Here in James Chapter 1 verse 12 James tells us that some Christians who are tempted will receive a crown of life.

Which Christians receive the crown from the Lord?

Christians who endure receive the crown of life

Where else does the Bible talk about a crown of life?

Revelation 2:10

In that passage, what trials are Christians encouraged to endure?

Christians are encouraged in Revelation 2:10 to endure trials and tribulations of prison and of death


2.  Consider the instruction we receive in James Chapter 1 verses 5 through 8.  Rewrite in your own words how one is to acquire wisdom based on this instruction.

One Example:

If you lack wisdom, ask God for it. But when you ask, don't waver in your believing that He will provide it, because God freely gives to all and doesn't fault you for asking. Be confident that God will deliver, or you will receive nothing.


3.  What is the lesson of James Chapter 1 verses 9, 10 and 11? How can one who is poor be proud and one who is rich be humble?

Jeremiah Chapter 9, verses 23 and 24 helps us to understand this:

Jeremiah 9:23-24
23 Thus saith the LORD, Let not the wise man glory in his wisdom, neither let the mighty man glory in his might, let not the rich man glory in his riches: 24 But let him that glorieth glory in this, that he understandeth and knoweth me, that I am the LORD which exercise lovingkindness, judgment, and righteousness, in the earth: for in these things I delight, saith the LORD.

Jesus tell us in Mark Chapter 10 that if you trust in riches it will be hard for you to enter into the Kingdom of God:

Mark 10:17-24
17 And when he was gone forth into the way, there came one running, and kneeled to him, and asked him, Good Master, what shall I do that I may inherit eternal life? 18 And Jesus said unto him, Why callest thou me good? there is none good but one, that is, God. 19 Thou knowest the commandments, Do not commit adultery, Do not kill, Do not steal, Do not bear false witness, Defraud not, Honour thy father and mother. 20 And he answered and said unto him, Master, all these have I observed from my youth. 21 Then Jesus beholding him loved him, and said unto him, One thing thou lackest: go thy way, sell whatsoever thou hast, and give to the poor, and thou shalt have treasure in heaven: and come, take up the cross, and follow me. 22 And he was sad at that saying, and went away grieved: for he had great possessions. 23 And Jesus looked round about, and saith unto his disciples, How hardly shall they that have riches enter into the kingdom of God! 24 And the disciples were astonished at his words. But Jesus answereth again, and saith unto them, Children, how hard is it for them that trust in riches to enter into the kingdom of God!

Jesus also tells us in Luke Chapter 12 the parable of the fool who laid up treasures on earth but who was not rich toward God:

Luke 12:16-21
16 And he spake a parable unto them, saying, The ground of a certain rich man brought forth plentifully: 17 And he thought within himself, saying, What shall I do, because I have no room where to bestow my fruits? 18 And he said, This will I do: I will pull down my barns, and build greater; and there will I bestow all my fruits and my goods.

19 And I will say to my soul, Soul, thou hast much goods laid up for many years; take thine ease, eat, drink, and be merry. 20 But God said unto him, Thou fool, this night thy soul shall be required of thee: then whose shall those things be, which thou hast provided? 21 So is he that layeth up treasure for himself, and is not rich toward God.
DAY THREE
Questions and Answers
1.  From a reading of James Chapter 1 verses 13 through 18, James was addressing a doctrinal error that stated that one is tempted by God to sin.  Why does it not make sense to believe that one could be tempted of God?  Why would someone wish to claim that he or she was tempted by God?

God cannot both want us to abide by His will and tempt us to not follow it by tempting us to sin or go against His will by yielding to temptation

When someone claims they are tempted of God, then they are trying to say that it's OK for them to sin because they were tempted of God


2.  Why can't God be tempted?

God does not have a sin nature like we do, He is holy and perfect. The devil cannot entice God to want what he (the devil) has because what the devil has is nothing compared to God, remember the devil wants to be as God and not the other way around.

As Albert Barnes notes in his commentary, with God:
There is no evil passion to be gratified, as there is in men;
There is no want of power, so that an allurement could be presented to seek what he has not;
There is no want of wealth, for he has infinite resources, and all that there is or can be is his (Psalm 50:10-11);
There is no want of happiness, that he should seek happiness in sources which are not now in his possession. Nothing, therefore, could be presented to the divine mind as an inducement to do evil.

3.  The two possible consequences of our temptations as provided here in James Chapter 1 are a crown of life (verse 12) and death (verse 15).  In James Chapter 1 verses 14 and 15 we learn that we are all tempted away from fellowship with God by our own lust or desires which lead to sin.

What can we do to avoid sin?

We can avoid sin by knowing the Word of God and relying on it to guide our preparations for and reactions to sin as Jesus Christ did in Matthew 4

What does God's Word tell us to do?

God Word tells us to pray for strength to resist temptation as Jesus told his disciples – God tells us in I Corinthians 10 that we will not be tempted above that which we are able to overcome.
DAY FOUR
Questions and Answers
1.  What is meant by the term "first-fruits" in James Chapter 1 verse 18?
From Vincent's Word Studies:

A kind of indicates the figurative nature of the term. Time figure is taken from the requirement of the Jewish law that the first-born of men and cattle, and the first growth of fruits and grain should be consecrated to the Lord. The point of the illustration is that Christians, like first-fruits, should be consecrated to God. The expression "first-fruits" is common in the New Testament.

See Romans 8:23; Romans 16:5; 1 Corinthians 15:20, 1 Corinthians 15:23; Revelation 14:4


2.  Why should we be swift to hear and slow to speak as James teaches us in James Chapter 1 verse 19?  What are three things we can do to become "faster" hearers and "slower" speakers?

We should be swift to hear and slow to speak because it will promote peace and understanding in our relationships with one another. We want peace because, as verse 20 says, an angry man does not bring about or work the righteousness of God. It is better to esteem others before ourselves (Philippians 2:3).

To become a faster hearer:
Don't interrupt
Listen with a focus on understanding
Try to paraphrase the information back to the speaker if possible
Take notes while listening
Don't speak while listening
Remove distractions
Concentrate on what is being said
Listen with the intent on understanding why the message is being provided
Discern if there is some action required on the part of the listener
Give non-verbal encouragement to the speaker to show him or her you are engaged in the act of listening intently
Ask God to give you patience to understand the speaker
Pray that God will allow you to understand clearly
Ask clarifying questions – "What do you mean by. . ."
Ask confirming questions - "Are you saying that if. . . "
Try to avoid thinking of how you will respond while the other person is speaking
To become a slower speaker:
Wait until the person is finished talking before you speak (see #1 above)
Pray silently before you speak
Pause before answering
Say, "Let me think about that for a second." and do it
"Hold your peace" or wait until someone asks your opinion before you speak
Choose your words carefully and deliberately
Be concise and to the point
Before offering a response or speaking consider whether your proposed speech is in line with God's Word
Before you speak, ask yourself "Is this how Jesus would respond?"
If possible seek the counsel of a fellow Christian to formulate a response

3.  Why is the analogy of the man in the mirror such an appropriate comparison of a hearer of the Word only?
(see James Chapter 1, verses 23 and 24)

One Man's Opinion:

It is a great analogy because the idea carries with it the concept of identity. When you are a doer of the Word you are, by your actions, deliberately identifying yourself as a believer. We act on our beliefs because we believe. If you don't believe the Word you won't do what it calls you to do.
If you believe the Word of God, the Holy Spirit lives in you and inspires you to live the Word, to be a Word doer. After you are born again, you are not your own and don't live for yourself, you live for God and therefore you DO for God. You are a doer of the Word and not merely a hearer.
DAY FIVE
Questions and Answers
1.  James Chapter 1 isn't the only place God teaches us about our tongues.  Study these verses from the Book of Psalms to fill in the concepts and whom is being spoken of with these references to evil or unbridled tongues (vs. 26).  Do you see any patterns?
Psalm

---

Scripture

---

Concept

---

Subject




---
| | | | |
| --- | --- | --- | --- |
| 5:9 | For there is no faithfulness in their mouth; their inward part is very wickedness; their throat is an open sepulchre; they flatter with their tongue. | deceitful words, flattery | David's enemies |
| | | | |
| --- | --- | --- | --- |
| 10:7 | His mouth is full of cursing and deceit and fraud: under his tongue is mischief and vanity. | cursing, deceit, fraud, mischief, vanity or pride | wicked men in vs. 2 |
| | | | |
| --- | --- | --- | --- |
| 50:19 | Thou givest thy mouth to evil, and thy tongue frameth deceit. | deceit | the wicked |
| | | | |
| --- | --- | --- | --- |
| 52:2 | Thy tongue deviseth mischiefs; like a sharp razor, working deceitfully. | deceit, mischief, destruction | evil, mighty men |
| | | | |
| --- | --- | --- | --- |
| 52:4 | Thou lovest all devouring words, O thou deceitful tongue. | deceit | evil, mighty men |
| | | | |
| --- | --- | --- | --- |
| 109:2 | For the mouth of the wicked and the mouth of the deceitful are opened against me: they have spoken against me with a lying tongue. | deceit, lies | the wicked |
| | | | |
| --- | --- | --- | --- |
| 120:2 | Deliver my soul, O LORD, from lying lips, and from a deceitful tongue. | deceit, lies | anyone with lying lips & deceitful tongue |
| | | | |
| --- | --- | --- | --- |
| 120:3 | What shall be given unto thee? or what shall be done unto thee, thou false tongue? | lies | the tongue |
You can easily see a pattern of deceit and lies by evil and wicked men.
DAY SIX
Questions and Answers
1.  Study these verses below.  What are some ways we can use our tongues, our ability to speak, our mouths, and ability to communicate that are in alignment with the Word of God?



Psalm

---




Scripture

---

Godly Use of Our Tongues




---
| | | |
| --- | --- | --- |
| 35:28 | And my tongue shall speak of thy righteousness and of thy praise all the day long. | Praise God |
| | | |
| --- | --- | --- |
| 37:30 | The mouth of the righteous speaketh wisdom, and his tongue talketh of judgment. | Speak wisdom |
| | | |
| --- | --- | --- |
| 39:1 | I said, I will take heed to my ways, that I sin not with my tongue: I will keep my mouth with a bridle, while the wicked is before me. | Bridle the mouth |
| | | |
| --- | --- | --- |
| 51:14 | Deliver me from bloodguiltiness, O God, thou God of my salvation: and my tongue shall sing aloud of thy righteousness. | Sing of God's righteousness |
| | | |
| --- | --- | --- |
| 71:24 | My tongue also shall talk of thy righteousness all the day long: for they are confounded, for they are brought unto shame, that seek my hurt. | Talk of God's righteousness |
| | | |
| --- | --- | --- |
| 119:172 | My tongue shall speak of thy word: for all thy commandments are righteousness. | Speak of God's Word |
As we read in Romans Chapter 10, verses 9 and 10, the greatest thing we could ever do in our lives is to confess with our mouths that Jesus Christ is Lord in our lives.

When we confess Him as our savior, we become righteous and we are born again, saved from eternal death and receive eternal life.
If you haven't confessed Jesus Christ as Lord, why don't you do it today?

The Bible says that if you will confess that Jesus is Lord with your mouth, and if you will believe in your heart that God raised Him from the dead, that you will be saved. 
Because with his heart a man believes unto righteousness, and with his mouth confession is made unto salvation.
Romans 10:9 and 10