Free Small Group Bible Study


Need A Free Small Group Bible Study?
This website offers you a free small group Bible study on the topic of pride and studies of the Books of Ephesians, Philippians, Colossians, Genesis, Ruth, Hebrews, James, Jude, and the Gospel of John.  
You can access them on the links below or the navigation bar on the left.
We'll be adding other studies as we move forward.
Let us not give up meeting together, as some are in the habit of doing, but let us encourage one another--and all the more as you see the Day approaching. (Hebrews 10:25 NIV)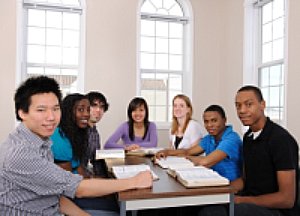 Daily study questions are offered for each chapter online. We also have added the option for you to have the daily study questions e-mailed to you for the Gospel of John.  
Hundreds have taken advantage of this quick and reliable delivery of daily Bible study questions directly to their inbox.  It's been so successful that we'll develop this same feature for other studies we offer too.
We believe a great way to learn the Bible using a free small group Bible study is through the small group facilitation or discussion format.  We provide materials for your study here to facilitate the study of different books of the Bible as well as biblical topics. 
They're several ways you can use a free small group Bible study for your study of the Bible.  The best ways involve you and a small group of fellow students.
Some Free Small Group Bible Study Options:



- Couples study together
- Weekly meeting in a home/church
- Collaborative online study group
- Daily home school study group
- Home church Bible study group
- Prison ministry study group
- School recess Bible study group
- Working lunch Bible study group
- Single Mom Bible study group
Small Group Bible Studies On This Website



Here's How It Can Work For You


You can use a free small group Bible study here by printing them out from the web page.  We offer to email questions to you every day for some of our lessons here.  Then you can compare your answers with the answers provided through a link included with the last daily email or from the web page itself.
Our study methodology involves a discussion of a passage of scripture that was previously studied individually or with a partner.  Bible passages and their corresponding study guides are provided for each weekly study.
This study format is designed to challenge the student to study the Bible on a daily basis, discuss and share insights with others, and learn biblical truths that can be applied in daily life.  Discussion leaders and students should read the assigned passage, answer the corresponding questions, and be prepared to discuss their answers to the questions at the group's next weekly meeting. 
Here's a Sample of the Small Group Process





First, leader's meet before the series of Bible studies to decide:
What will be studied
How long the meetings will last
When, where, and at what time the group will meet
Who will facilitate the discussions when the group meets weekly
If there will be childcare, who will provide it and the details of that
Who will keep the students "on track" in case they miss a meeting
That's essentially it but there's always more to work out according to your particular situation and needs.
Then, the weekly meetings begin.  Here's how that can work:


First there should be a "check-in" or "how's everybody doing?" session.  This is necessary to ensure we care for our fellow students and to ensure that all can focus on the scheduled Bible study or; if necessary, care for someone who is present but needs immediate care before they can study the Bible.
Secondly, someone should offer an opening prayer, remembering to pray for any needs identified.  A critical element in the opening prayer should be to ask God to enlighten the students as they seek to understand what the Bible says about Him and themselves.
Then, beginning with day one and moving through day six, the facilitator will lead the group to discuss their answers to the Bible study questions that they all just studied that previous week.
The general rule is this: if you don't have the answer to the question prepared (written down), group members pass by telling the discussion leader "I didn't answer that one" or "I'm going to pass on that one" etc. so the discussion can move forward. 
Daily studies of the materials on this website can take as little as 15 minutes but is typically 30 minutes a day.  The weekly discussions can easily last an hour, and may easily take 90 minutes or longer with groups that are comfortable or familiar with one another.
The Goal of Small Group Bible Study
The idea for small group study is to share insights, explore the Bible together, and benefit from group discussion of biblical principles.  The ideal small group format provides for a daily individual or partner study which is complemented by the weekly discussion group.
Discussion leaders do not have all the answers and shouldn't be expected to have them – they should be expected to:
Be knowledgeable on Biblical doctrine
Understand how to facilitate group discussion
Know how to say "I don't know"
Discussion leaders and students can learn from each other and learn more about the life of Jesus Christ together.  It may surprise you how much you can learn from this format.  Let us know how it works out for you, we would love to hear from you.

Find out how rewarding a free small group Bible study can be for you.
By the way, these Bible studies are suitable for youth Bible studies.
Feedback We've Received
Thank you. This is an amazing study and I'm so happy to have found your site. I'm sharing this study with some friends and we're having much discussion. This book is an eye opener as we dig deeper and giving us a look into our own lives. After this book is finished I'll be doing some of your other books and studies. Thank you again for sharing these studies with all of us. May God Bless you, Betty
Tools to Help You Study the Bible
It helps if you have a study library or at least a study Bible.  We've reviewed several study Bibles and offer our opinion on them at this page. We also recommend that you consider downloading a free electronic software library (opens new window) of Bibles and Bible reference tools if you have a computer.  Having participants armed with these tools enhances your free small group Bible study.  If you're thinking of leading a free small group Bible study, I believe a software library is essential.
Some Other Resources For You

Church Accounting, Nonprofit Accounting, and Free Financial Spreadsheets Free financial accounting spreadsheets for churches and nonprofits. Fund accounting, budgets, audits, and many more accounting subjects discussed in detail.

Free Church Forms Certificates, Flyers, Baby Shower Invitations and much more to download, and customize for the important needs of your church. Check out our Shepherdbase (Church Membership Database) that tracks members and their contributions and much more.
We pray that this website provides a free small group Bible study that you can use to bless God by bring people who are far from God close to Him by a study of His Holy Word.