Youth Bible Study Lessons


Looking for youth Bible study lessons?  We have over a year's worth of weekly Bible studies suitable for youth on this website.  All are free and most are downloadable.  We offer free email service for the Gospel of John. 
If you're looking for Bible study lessons where the studies provide a daily homework assignment then these lessons provide a perfect fit for you. 
All of our studies are designed for small groups but can be used individually as well.
Format and Process for These Bible Studies
These bible study lessons provide daily Bible study questions assigned for each of the six days before the next small group meeting.

Typically a small group leader will distribute the Bible study material to the group the week prior to the small group meeting the following week.

There're no assigned questions for the seventh day as the group will meet together that day.
Each weekly lesson covers a chapter of the Bible or a different topic and the youth would answer 2-3 questions for each of the six days from that chapter or topic.
The idea is to study the Bible individually on a daily basis and then meet as a small group weekly to discuss the answers - and more importantly - the Biblical principles that we can apply in our lives from the lessons.

Youth Bible Study Lessons

Other youth Bible study lessons will be offered soon with the Gospel of Luke and the Book of Acts planned for development in the future.

These free downloadable Bible studies are true to the Word of God and are designed to inspire youthful believers.  We also intend to assist youth ministers by providing these studies free of charge.

Stay tuned.  We're developing a full curriculum of free printable youth bible studies suitable for Sunday school lessons, and other formats suitable for youth.  We'll add more Bible studies to the site as we continue this ministry to our youth.  

It takes time, but we're intentional and on mission to provide quality Bible study material so that our God is understood and our youth can be who God created them to be.  
After the small group meets to discuss their answers, they are given the questions for the next chapter to study before the next meeting. This cycle continues until the end of the lesson.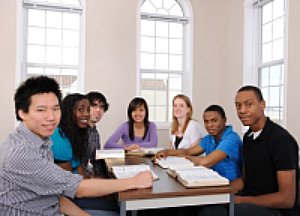 We pray these lessons bless you and your students.

You may want to check out our sister website also.
We appreciate any feedback you may wish to provide us on these lessons for your youth, just click on the contact us link to drop us a line, God Bless.