Answers for Colossians Chapter 1




DAY ONE
Questions and Answers
1. According to the first three verses of Colossians Chapter 1, answer the following questions:
Who wrote the book? Paul
Who was with the author? Timothy
To whom was the book written? The saints and faithful brethren in Christ in Colosse
2. What 2 reasons are given for the author to thank God for the Colossians in verse 4? 

because we have heard of your faith in Christ Jesus 
the love you have for all the saints 
3. Who previously taught the Colossians the truth of the Gospel? 

Epaphras (see verse 7) 


DAY TWO
Questions and Answers
1. From Colossians Chapter 1 verses 9, 10, and 11, list the things that Paul is praying will happen. 

asking God to fill you with the knowledge of his will through all spiritual wisdom and understanding (verse 9)
that you may live a life worthy of the Lord and may please him in every way: bearing fruit in every good work, growing in the knowledge of God (verse 10)
being strengthened with all power according to his glorious might so that you may have great endurance and patience (verse 11)
2. List the things God has accomplished on your behalf through Christ Jesus from Colossians Chapter 1 verses 12, 13, and 14. 
the Father has qualified you to share in the inheritance of the saints in the kingdom of light (verse 12)
the Father has rescued us from the dominion of darkness and brought us into the kingdom of the Son he loves (verse 13)
we have redemption, the forgiveness of sins (verse 14)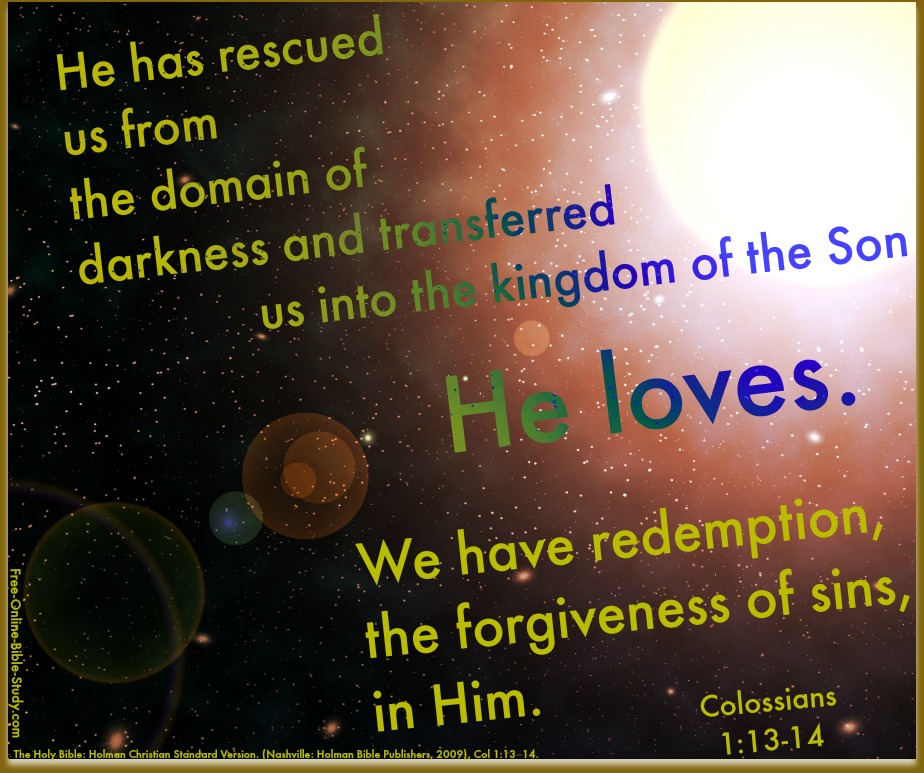 DAY THREE
Questions and Answers
1. List the attributes of Jesus Christ from Colossians Chapter 1 verses 15, 16, 17, and 18. 

image of the invisible God (verse 15)
firstborn over all creation (verse 15)
creator of all things (verse 16)
reason why all things were created (verse 16)
the reason all things are held together (verse 17)
the head of the body, the church (verse 18)
firstborn from among the dead (verse 18)
supreme (verse 18)
2. Have you ever wondered what Jesus Christ may have looked like? What do you imagine when you think of him? How do you see him in your mind? 


Only you can answer this question.  But remember that what He looks like isn't as important as who you think He is - He is the Savior of the world - the Son of God.
It's nice to imagine what He looks like but you will never see Him unless He is your Savior.
DAY FOUR
Questions and Answers
1. From Colossians Chapter 1 verses 21 and 22 identify what your condition was before and after you were reconciled to God through Jesus Christ. 

Before you were reconciled to God:
alienated from God 
enemies in your mind
behaving evilly 
After you were reconciled to God:
reconciled to God 
holy 
without blemish 
free from accusation
2. Why is God or Jesus Christ represented by light? Why is evil or Satan represented by darkness? How are these symbols helpful to our understanding and an accurate representation of the truth? 

Light helps us see, to understand, to know the truth. Darkness hides the truth, confuses us and causes a lack of understanding.
Check out these verses:
1 John 1:5
5 This then is the message which we have heard of him, and declare unto you, that God is light, and in him is no darkness at all.
Psalms 104:1-2
1 Bless the LORD, O my soul. O LORD my God, thou art very great; thou art clothed with honour and majesty. 2 Who coverest thyself with light as with a garment: who stretchest out the heavens like a curtain:
Psalms 27:1
1 The LORD is my light and my salvation; whom shall I fear? the LORD is the strength of my life; of whom shall I be afraid?
John 8:12
12 Then spake Jesus again unto them, saying, I am the light of the world: he that followeth me shall not walk in darkness, but shall have the light of life.
John 12:35
35 Then Jesus said unto them, Yet a little while is the light with you. Walk while ye have the light, lest darkness come upon you: for he that walketh in darkness knoweth not whither he goeth.
1 John 2:11
11 But he that hateth his brother is in darkness, and walketh in darkness, and knoweth not whither he goeth, because that darkness hath blinded his eyes. 


DAY FIVE
Questions and Answers
1. Where was the town or city of Colosse? 

The city was in Phrygia, in the valley of the Lycus, about ten or twelve miles beyond Laodicaea and Hierapolis. The region is volcanic, and the earthquakes common to large portions of Asia Minor are here peculiarly severe. The tributaries of the Lycus carried calcareous matter which formed everywhere deposits of travertine, said to be among the most remarkable formations of this character in the world. "Ancient monuments are buried, fertile lands overlaid, river-beds choked up, and streams diverted, fantastic grottos and cascades and arches of stone formed by this strange, capricious power, at once destructive and creative, working silently and relentlessly through long ages. Fatal to vegetation, these incrustations spread like a stony shroud over the ground. Gleaming like glaciers on the hillside, they attract the eye of the traveler at a distance of twenty miles, and form a singularly striking feature in scenery of more than common beauty and impressiveness" (Lightfoot).
The fertility of the region was nevertheless great. The fine sheep, and the chemical qualities of the streams which made the waters valuable for dyeing purposes, fostered a lively trade in dyed woolen goods. All the three cities were renowned for the brilliancy of their dyes.
Colossae stood at the junction of the Lycus with two other streams, on a highway between eastern and western Asia, and commanding the approaches to a pass in the Cadmus mountains. Both Herodotus and Xenophon speak of it as a prosperous and great city; but in Paul's time its glory had waned. Its site was at last completely lost, and was not identified until the present century. Its ruins are insignificant. Paul never visited either of the three cities. The church at Colossae was the least important of any to which Paul's epistles were addressed. Vincent's Word Studies 

2. What is meant in verse 24 where Paul states that he ". . . fills up his flesh what is still lacking in Christ's afflictions?" 

This verse does not imply a deficiency in Christ's atoning sacrifice on the cross. Behind it stands a Jewish and early Christian conviction of a predetermined amount of suffering to be endured by God's people before the consummation of the age. Paul saw his suffering on behalf of Christ as contributing to the sum total.  


DAY SIX
Questions and Answers
1. What is the mystery mentioned in verse 26 that was hidden for ages and generations? 
The answer is in the next verse
Colossians 1:27
27 To them God has chosen to make known among the Gentiles the glorious riches of this mystery, which is Christ in you, the hope of glory.

2. Why was it necessary for God to hide the mystery?

The answer is in I Corinthians Chapter 2:
I Corinthians 2:7-10
7 No, we speak of God's secret wisdom, a wisdom that has been hidden and that God destined for our glory before time began.
8 None of the rulers of this age understood it, for if they had, they would not have crucified the Lord of glory.
9 However, as it is written: "No eye has seen, no ear has heard, no mind has conceived what God has prepared for those who love him"
10 but God has revealed it to us by his Spirit. The Spirit searches all things, even the deep things of God.