Ruth Chapter 2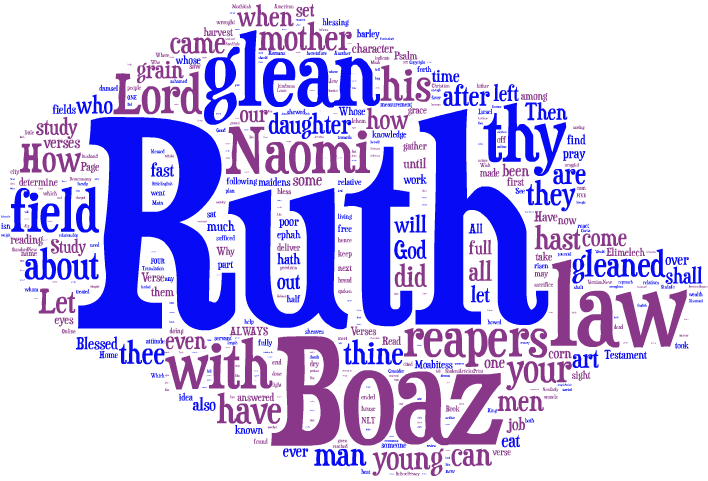 In this Bible study of the Book of Ruth Chapter 2 we see the provision of God.  See what happens when Ruth meets Boaz her new relative and how he treats her.
We pray this Bible study of Ruth is a blessing to you. 



Daily Study Questions




Day One
1.  Read the first seven verses of Ruth Chapter 2 to answer the following questions:  
2.  Why was Ruth so surprised to be treated with favor by Boaz?
3.  What is the hardest part about your job?   How do you react when doing a job that perhaps isn't to your full potential?   What attitude should we have?  (Read Colossians 3:23)
Day Two
4.  How was Ruth known to Boaz?
5.  What can you determine about the character of Boaz from the reading of Ruth Chapter 2?
6.  Have you ever struggled in helping someone because they are different from you?
Day Three
7.  What can you determine about the character of Ruth from reading the following verses from Ruth Chapter 2:
Verse 2
Verses 7 and 17
Verse 8
Verses 10 and 13
Verse 18
8.  How do Ruth and Boaz both benefit from the law as prescribed in your reading of Leviticus 23:22 and Deuteronomy 24:19-21?
9.  What are some sacrifices we can make for people?  What's the biggest sacrifice you've ever made for someone?
Day Four
10. Which verses from Ruth Chapter 2 indicate the character of the relationship between Naomi and Ruth and what was the nature of that relationship?
1 Blessed is he that considereth the poor: The Lord will deliver him in time of trouble.  2  The Lord will preserve him, and keep him alive; And he shall be blessed upon the earth: And thou wilt not deliver him unto the will of his enemies. 
Psalm 41:1-3
11. Consider how Boaz treated Ruth as a poor relative and the promise of God from the Scripture cited from Psalm 41 on the subject.
Would you (or do you) have the same attitude towards your relatives who are in need?
Day Five
12.  What does verse 23 of Ruth Chapter 2 and your review of Deuteronomy 16:9-12 tell you about the length of time Ruth worked in the fields?
Day Six
13.  How can this study of Ruth, Boaz, and Naomi help us in our relationships with our families?
We pray this Ruth Chapter 2 Bible study has blessed you.