Adult Bible Study Lesson Plans

Adult Bible Study Lesson Plans 


We offer free adult Bible study lesson plans designed for small groups with daily study questions.   We offer over fifty weeks of Bible studies that guide you through books of the Bible.  All Bible studies cover a chapter of the Bible each week.  Each study offers six days of consecutive study questions.  This concept allows a small group to meet to discuss their answers on the seventh day.  Oh by the way, we offer answers for the daily study questions.
We feature daily emails for the first 11 chapters of the Gospel of John.  That allows you to avoid the cost of printing and also allows you to have people join your Bible study at any time and from any place.

We also offer you the opportunity to download several Bible studies as PDF files.  Access the files at this page.

We ask that you not sell these studies but we ask that you use them to bring glory to the Lord Jesus Christ and God Almighty.  That's the purpose of this website.  God Bless and please contact us if you have any suggestions on how we can work better together.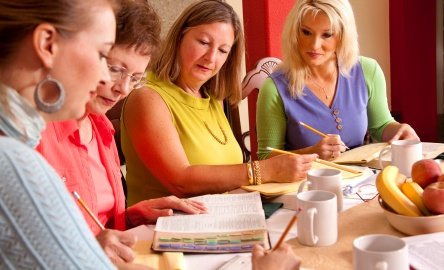 Adult Bible Study Lesson Plans

 On This Website
About These Lesson Plans
Most of these Bible Study Lessons are focused on a particular book of the Bible. However, we do offer some topical studies also which are listed below.  We'll add more topical studies as we develop them but they typically take more time to develop.
Serve the King of Kings
Won't you consider sharing what you've learned about God and His son Jesus Christ with someone today?  After becoming a follower of Jesus Christ, it's the greatest single thing you'll ever do in your life.   Serve the King of Kings and share the good news of his Kingdom today.

After you check out the adult Bible study lesson plans on this site, you may want to check our sister site. 
Our prayer with these Bible studies is that you will not just learn about God and his holy word but that you will apply the lessons to your daily life and be blessed as a result and bless God while you're at it.