Bible Commentaries
We have partnered with Bible Lessons International to provide you these free Bible commentaries. Like Free-Online-Bible-Study.com, Bible Lessons International is intent on giving away all its material to promote study of the Word of God and so that God might receive all the glory and honor.
Bible Lessons International is a non-profit Bible study ministry dedicated to empowering God's people to interpret the Bible for themselves. These verse-by-verse, exegetical commentaries are committed to the trustworthiness and authority of Scripture, emphasizing the intent of the original inspired authors by means of their:
Historical Setting
Literary Context
Grammatical Features
Choice of Words
Genre
Parallel Passages
These commentaries were developed by Dr. Bob Utley. Dr Utley has earned degrees from East Texas Baptist College, Southwestern Baptist Theological Seminary, and Trinity Evangelical Divinity School. He has also done post-graduate work at Baylor University and Wycliffe Bible Translators' Summer Institute of Linguistics. Bob has served as pastor at several Texas churches and taught for 16 years in the religion department of East Texas Baptist University. To see a full resume click here.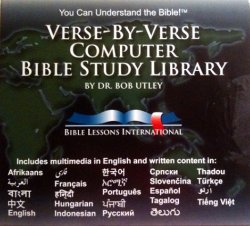 Message from Dr. Bob Utley
Please visit our website to see all of the resources that are available. We hope these lessons are blessing to you in your personal study of the Bible. Thank you for your prayers for us. To God be the glory for the great things He is doing!
Dr. Bob Utley, Professor of Hermeneutics (Retired)

---
Before you Download - Do You Have the Free Adobe Reader?
These Bible commentaries are available for download as Adobe PDF documents. If you do not have the Adobe Reader installed on your computer you can download this free program by clicking on the logo below.

---
Bible Commentaries on the Old Testament
Genesis Part I
Genesis Part II
Deuteronomy
Joshua
Ezra, Nehemiah, and Esther
Ecclesiastes and Song of Songs
Isaiah
Ezekiel
Daniel and Zechariah
Amos, Hosea, Jonah, and Micah
Obadiah, Joel, Haggai, and Malachi


Bible Commentaries on the New Testament
Matthew
Mark plus I and II Peter
Luke
The Gospel and Epistles of John
Acts
Romans
I and II Corinthians
Galatians, plus I and II Thessalonians
Colosssians, Ephesians, Philemon, and Philippians
I and II Timothy plus Titus
Hebrews
James and Jude
Revelation

---
Besides English, Bible Lessons International offers commentaries in twenty three different international languages, including:
Afrikaans
Chinese
Francais
Hungarian
Indonesian
Portugues
Espanol
Spanish
Tagalog
Thadou
Also available are 850 minutes of video and more than 600 minutes of MP3 audio, suitable for I-Pod and I-Phone use. As if that were not enough, the ministry also provides a the following resources:
---
Return from Bible Commentaries to Free Online Bible Study Home Page