Ephesians Chapter 6
Welcome to the sixth and final study of the Book of Ephesians.
Ephesians Chapter 6 teaches us how to honor our parents and how we should interact with our employers. We also learn how to put on the armor of God in this final chapter to withstand the devil's attacks.
Your learning comes from reading and studying the Bible. After you have read chapter six below, it's a good idea to answer the daily study questions. God Bless and enjoy your Bible study!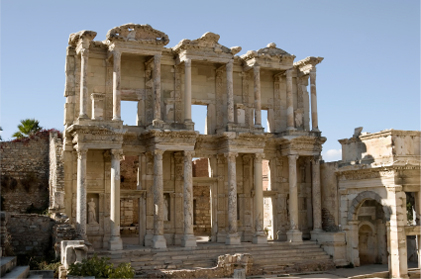 Ruins of the Celsus Library in Ancient Ephesus in Modern Day Turkey
---
Ephesians Chapter 6 - from the King James Version

1 Children, obey your parents in the Lord: for this is right. 2 Honour thy father and mother; (which is the first commandment with promise;) 3 That it may be well with thee, and thou mayest live long on the earth.

4 And, ye fathers, provoke not your children to wrath: but bring them up in the nurture and admonition of the Lord.

5 Servants, be obedient to them that are your masters according to the flesh, with fear and trembling, in singleness of your heart, as unto Christ; 6 Not with eyeservice, as menpleasers; but as the servants of Christ, doing the will of God from the heart; 7 With good will doing service, as to the Lord, and not to men: 8 Knowing that whatsoever good thing any man doeth, the same shall he receive of the Lord, whether he be bond or free.

9 And, ye masters, do the same things unto them, forbearing threatening: knowing that your Master also is in heaven; neither is there respect of persons with him.

10 Finally, my brethren, be strong in the Lord, and in the power of his might. 11 Put on the whole armour of God, that ye may be able to stand against the wiles of the devil. 12 For we wrestle not against flesh and blood, but against principalities, against powers, against the rulers of the darkness of this world, against spiritual wickedness in high places. 13 Wherefore take unto you the whole armour of God, that ye may be able to withstand in the evil day, and having done all, to stand.

14 Stand therefore, having your loins girt about with truth, and having on the breastplate of righteousness; 15 And your feet shod with the preparation of the gospel of peace; 16 Above all, taking the shield of faith, wherewith ye shall be able to quench all the fiery darts of the wicked. 17 And take the helmet of salvation, and the sword of the Spirit, which is the word of God: 18 Praying always with all prayer and supplication in the Spirit, and watching thereunto with all perseverance and supplication for all saints; 19 And for me, that utterance may be given unto me, that I may open my mouth boldly, to make known the mystery of the gospel, 20 For which I am an ambassador in bonds: that therein I may speak boldly, as I ought to speak.

21 But that ye also may know my affairs, and how I do, Tychicus, a beloved brother and faithful minister in the Lord, shall make known to you all things: 22 Whom I have sent unto you for the same purpose, that ye might know our affairs, and that he might comfort your hearts.

23 Peace be to the brethren, and love with faith, from God the Father and the Lord Jesus Christ. 24 Grace be with all them that love our Lord Jesus Christ in sincerity. Amen.
---



Daily Study Questions



Click here to download these questions as a PDF file
Day One


1. What is the promise for honoring parents in Ephesians Chapter 6, verse 3?

2. Are any of the other nine commandments associated with a promise? Why is the fifth commandment described as the first commandment with a promise? (See Exodus 20, verses 3-13)

3. How can we honor our parents as adult children?
---
Day Two


1. What are the other 2 commandments restated in Chapters 4 and 5 of Ephesians?

2. How do fathers sometimes exasperate their children? If your father or mother exasperated you, how did you overcome it?

3. Does the Bible condone slavery?

---
Day Three


The ancient master-slave situation was basically a labor relationship. We can learn Christian principles for our modern-day work relationships by studying this ancient cultural hierarchy. What reasons do the following verses give us for obeying our superiors or "masters" in a modern-day work environment?
Ephesians Chapter 6, verses 5-9
Colossians Chapter 3, verses 22-25
I Timothy Chapter 6, verses 1-2
Titus Chapter 2, verses 9-10
I Peter Chapter 2, verses 18-21
---
Day Four


1. What are the 6 pieces of the armor of God and for what do they represent?

2. From the following verses from Ephesians Chapter 6, what does the armor of God allow us to do? Is there a theme? If so, what is it?
Verse 11
Verse 13
Verse 14
Verse 16
3. What are the 2 offensive weapons mentioned in Ephesians Chapter 6, verses 10-18?

---
Day Five


1. What does verse 18 provide for us in analyzing the following aspects of prayer?
When should we pray
What kinds of prayer
Our disposition for prayer
Whom we should pray for
2. What does Paul ask the believers in Ephesus to pray for in verses 19 and 20?

3. What titles does Paul use to describe himself in the following verses; which one would you prefer if you had to choose from the four for yourself? Why?
Ephesians 1:1
Ephesians 3:1 and 4:1
Ephesians 3:7
Ephesians 6:20
---
Day Six


1. What do we learn about Tychicus from the following verses? What title might he use to describe himself?
Acts 20:4
Ephesians 6:21
Colossians 4:7
2 Timothy 4:12
Titus 3:12
2. What can we learn about sharing our faith from Ephesians Chapter 6, verse 19 and 20?

---
Compare Your Answers for Ephesians Chapter 6

Ephesians Bible Study Main Page

Free Online Bible Study Home Page