Ephesians Chapter 4
Welcome to the fourth of six studies of the Book of Ephesians.
Ephesians Chapter 4 presents principles for the believer's conduct in the world. We learn how to walk worthy in the unity of the Spirit with faith and knowledge. We also discuss the old man and discover that we must put on the new man.
Your learning comes from reading and studying the Bible. After you have read chapter four below, it's a good idea to answer the daily study questions. God Bless and enjoy your Bible study!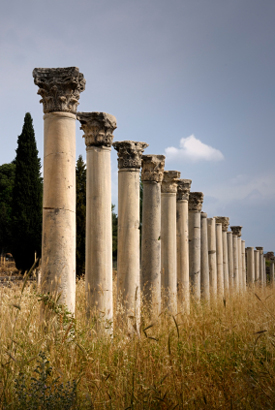 Columns at the ruins of Ephesus in modern day Turkey.
---
Ephesians Chapter 4 - from the King James Version

1 I therefore, the prisoner of the Lord, beseech you that ye walk worthy of the vocation wherewith ye are called, 2 With all lowliness and meekness, with longsuffering, forbearing one another in love; 3 Endeavouring to keep the unity of the Spirit in the bond of peace. 4 There is one body, and one Spirit, even as ye are called in one hope of your calling; 5 One Lord, one faith, one baptism, 6 One God and Father of all, who is above all, and through all, and in you all.

7 But unto every one of us is given grace according to the measure of the gift of Christ. 8 Wherefore he saith,
When he ascended up on high,

he led captivity captive,

and gave gifts unto men.
9 (Now that he ascended, what is it but that he also descended first into the lower parts of the earth? 10 He that descended is the same also that ascended up far above all heavens, that he might fill all things.)

11 And he gave some, apostles; and some, prophets; and some, evangelists; and some, pastors and teachers; 12 For the perfecting of the saints, for the work of the ministry, for the edifying of the body of Christ: 13 Till we all come in the unity of the faith, and of the knowledge of the Son of God, unto a perfect man, unto the measure of the stature of the fulness of Christ: 14 That we henceforth be no more children, tossed to and fro, and carried about with every wind of doctrine, by the sleight of men, and cunning craftiness, whereby they lie in wait to deceive; 15 But speaking the truth in love, may grow up into him in all things, which is the head, even Christ: 16 From whom the whole body fitly joined together and compacted by that which every joint supplieth, according to the effectual working in the measure of every part, maketh increase of the body unto the edifying of itself in love.

17 This I say therefore, and testify in the Lord, that ye henceforth walk not as other Gentiles walk, in the vanity of their mind, 18 Having the understanding darkened, being alienated from the life of God through the ignorance that is in them, because of the blindness of their heart: 19 Who being past feeling have given themselves over unto lasciviousness, to work all uncleanness with greediness.

20 But ye have not so learned Christ; 21 If so be that ye have heard him, and have been taught by him, as the truth is in Jesus: 22 That ye put off concerning the former conversation the old man, which is corrupt according to the deceitful lusts; 23 And be renewed in the spirit of your mind; 24 And that ye put on the new man, which after God is created in righteousness and true holiness.

25 Wherefore putting away lying, speak every man truth with his neighbour: for we are members one of another. 26 Be ye angry, and sin not: let not the sun go down upon your wrath: 27 Neither give place to the devil. 28 Let him that stole steal no more: but rather let him labour, working with his hands the thing which is good, that he may have to give to him that needeth. 29 Let no corrupt communication proceed out of your mouth, but that which is good to the use of edifying, that it may minister grace unto the hearers. 30 And grieve not the holy Spirit of God, whereby ye are sealed unto the day of redemption. 31 Let all bitterness, and wrath, and anger, and clamour, and evil speaking, be put away from you, with all malice: 32 And be ye kind one to another, tenderhearted, forgiving one another, even as God for Christ's sake hath forgiven you.
---



Daily Study Questions




Click here to download these questions as a PDF file


Day One

1. What are the 4 things Paul exhorts the Ephesians to do in Ephesians Chapter 4, verses 1-3?

2. List the seven reasons for Paul's call to unity in verse 3 that are provided in Ephesians Chapter 4, verses 4-6.

3. Listed below are 12 major Christian denominations from the World Almanac and Book of Facts. Not listed are hundreds of smaller churches not affiliated with a particular denomination and divisions amongst the different major denominations.

Seeing the seven aspects of oneness to Christianity in verses 4 through 6, why do you think there are so many different denominations today? Why do you think there was division in the early church?
Baptists
Church of Christ (Disciples)
Episcopalians
Jehovah's Witnesses
Latter-day Saints (Mormons)
Lutherans
Methodists
Orthodox
Pentecostal
Presbyterians
Roman Catholics
United Church of Christ
---
Day Two

1. What are the two aspects of Christian doctrine does Paul contrast in Ephesians Chapter 4, verses 4 through 13?

2. What does it mean when it states that Jesus "led captives in his train"?

3. Jesus gave us the gifts of apostles, prophets, evangelists, pastors and teachers. These gifts progressively benefit the church. What are the 4 stated purposes for these gifts that build upon one another described in verses 11, 12 and 13? Also, describe in your own words what the end result of the gifts on the church should be.
---
Day Three

1. Describe the two results or benefits of spiritual maturity provided in verses 14 and 15 of Ephesians Chapter 4.

2. The Living Bible translation of Col 3:10-11 says: You are living a brand new kind of life that is continually learning more and more of what is right, and trying constantly to be more and more like Christ who created this new life within you.

What do you think are the four habits we need to develop as individual believers to reach our spiritual maturity?

---
Day Four

1. Who were the people in the following verses that were considered spiritually mature? Why?
John 1:43-46
Acts 17:10-11
2. Describe the 7 aspects of the life of the Gentiles provided in verses 17 through 19 of Ephesians Chapter 4.

3. Paul states that the Ephesians were taught certain things in verses 22 through 24. What were they taught?

---
Day Five


List all the fifteen things we should do as Christians as provided in the following verses from Ephesians Chapter 4.
Verse 15
Verse 15
Verse 16
Verse 17
Verse 25
Verse 25
Verse 26
Verse 26
Verse 27
Verse 28
Verse 28
Verse 29
Verse 30
Verse 31
Verse 32
---
Day Six

How are we to put off the old man and put on the new self? What can we do to renew our minds as it says in Romans 12:2?

---
Compare Your Answers for Ephesians Chapter 4

Ephesians Bible Study Main Page

Free Online Bible Study Home Page