Colossians Chapter 3


Colossians Chapter 3 - This is the third of four weekly studies on the Book of Colossians. Here in Chapter 3 we learn of the New Man and the Christian family. We also learn about what wonderful and glorious thing will happen to the believers in Jesus Christ when he returns.

Colossians Chapter 3
King James Version
1 If ye then be risen with Christ, seek those things which are above, where Christ sitteth on the right hand of God. 2 Set your affection on things above, not on things on the earth. 3 For ye are dead, and your life is hid with Christ in God. 4 When Christ, who is our life, shall appear, then shall ye also appear with him in glory.
5 Mortify therefore your members which are upon the earth; fornication, uncleanness, inordinate affection, evil concupiscence, and covetousness, which is idolatry: 6 For which things' sake the wrath of God cometh on the children of disobedience: 7 In the which ye also walked some time, when ye lived in them.
8 But now ye also put off all these; anger, wrath, malice, blasphemy, filthy communication out of your mouth. 9 Lie not one to another, seeing that ye have put off the old man with his deeds; 10 And have put on the new man, which is renewed in knowledge after the image of him that created him: 11 Where there is neither Greek nor Jew, circumcision nor uncircumcision, Barbarian, Scythian, bond nor free: but Christ is all, and in all.
12 Put on therefore, as the elect of God, holy and beloved, bowels of mercies, kindness, humbleness of mind, meekness, longsuffering; 13 Forbearing one another, and forgiving one another, if any man have a quarrel against any: even as Christ forgave you, so also do ye. 14 And above all these things put on charity, which is the bond of perfectness. 15 And let the peace of God rule in your hearts, to the which also ye are called in one body; and be ye thankful. 16 Let the word of Christ dwell in you richly in all wisdom; teaching and admonishing one another in psalms and hymns and spiritual songs, singing with grace in your hearts to the Lord. 17 And whatsoever ye do in word or deed, do all in the name of the Lord Jesus, giving thanks to God and the Father by him.
18 Wives, submit yourselves unto your own husbands, as it is fit in the Lord.
19 Husbands, love your wives, and be not bitter against them.
20 Children, obey your parents in all things: for this is well pleasing unto the Lord.
21 Fathers, provoke not your children to anger, lest they be discouraged.
22 Servants, obey in all things your masters according to the flesh; not with eyeservice, as menpleasers; but in singleness of heart, fearing God: 23 And whatsoever ye do, do it heartily, as to the Lord, and not unto men; 24 Knowing that of the Lord ye shall receive the reward of the inheritance: for ye serve the Lord Christ. 25 But he that doeth wrong shall receive for the wrong which he hath done: and there is no respect of persons.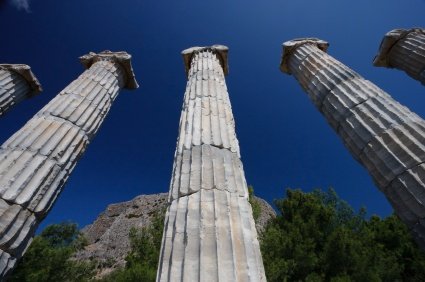 Ruins of Roman pillars in modern day Turkey

Colossians Bible Commentary
Did you know we offer a free commentary on the Books of Ephesians, Philippians, Colossians, and Philemon?  This 241 page free resource is the perfect Colossians Bible Study aid.  It's authored by Dr. Bob Utley and offered to you through our partnership with Bible Lessons International.
Just click here



Daily Study Questions



DAY ONE

1. In Colossians Chapter 3 verse 3 we read that we died. Verse 1 tells us that we have been raised with Christ, which is the same truth we saw in Chapter 2 verse 12. How are we dead and buried in baptism with Christ? We know we are alive, so what died or how did we die?

2. How are we raised with Christ? What do verses 12 and 13 of Chapter 2 tell us?

DAY TWO

1. How do we explain that our life is now hidden with Christ in God?

2. Why does Colossians Chapter 3 verse 4 state that we will appear with Christ at His second coming? Does I John 3:2 help us understand this verse?

DAY THREE

1. From verses 5 through 9, what are the things we are told to put to death with our old man, or put away?

2. From verses 10-17, what things are we told to put on or do as the new man? List the things we are told to do, focus on the action verbs or commands. Do you see any patterns?

DAY FOUR

1. Why are there eight categories of people listed in verse 11? What do they mean?

2. What do the following verses teach us about God's perspective of people?
Act 10:34
Romans 2:11
Colossians 3:11
Colossians 3:25
James 2:8-9

DAY FIVE

1. What does the word "submit" in verse 18 mean? A question for the ladies: Why does it make sense?

2. In verse 19 husband are told to love their wives and not to be harsh or bitter with them. What is the impact of a marriage when these 2 commands from Colossians Chapter 3 verses 18 and 19 are not obeyed? How has Satan influenced our culture to convince us that we do not have to obey these commands?

DAY SIX

1. What life lessons can we learn from the principles of Colossians Chapter 3 verses 22-25?

2. What is the theme of this third Chapter of Colossians? Describe the theme using a single sentence.
Compare Your Answers for Colossians Chapter 3 
Bible Study

›
Colossians
› Chapter 3