Memorize Bible Verses


Memorize Bible Verses to release the power of God's truth in your life.
Today most Christians can't quote very many Scriptures with the references.  How many Scripture verses can you quote?  Perhaps you know John 3:16 and Genesis 1:1 and a handful of others. 

Maybe you've tried before and thought you learned several verses.  But then a few days or weeks later you were frustrated when you realized you couldn't remember how to start the verse or how to complete it or where it was found.  
It can be disappointing and discouraging to find that your work has gotten you nowhere.  Here's some good news. 
This page provides links to eight lessons that teach you how to memorize Scripture.  Scroll down to the links & get started today.

There's a way you can memorize Scripture and learn it so well you won't forget it.  You can have success at memorizing Scripture.  Once you learn some basic principles you'll have the understanding and the tools you need to make real, lasting progress! 
I know you can do it.  You have what it takes to memorize Bible verses to hide God's Word in your heart. 

Hidden In My Heart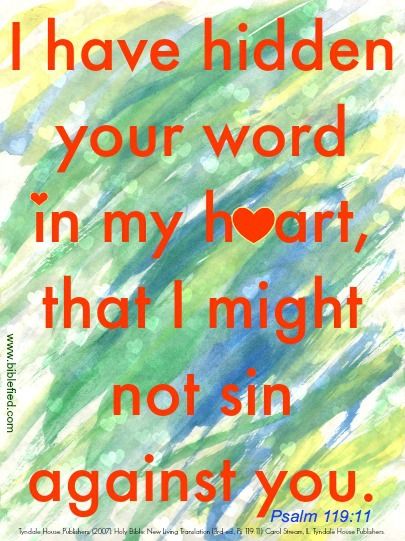 If you're one of the many believers who haven't stored some of God's Word in your mind, then you're at a disadvantage when it comes to applying the life changing, joy-producing power of God's truth in your life.  Scripture can't guide your steps or correct your path in the day-to-day affairs of life. 

Also, you don't have a sure, certain, and helpful word from God to share with someone in need.  More importantly, you don't have the biggest help possible if you find yourself in deep trouble. 
For instance, imagine you're taken captive in another country for sharing your faith.  How much Scripture have you got to help you if you can't have your Bible with you?  

God has given you a genuine treasure in the form of His truth as revealed Scripture.  It's up to you to transfer at least a small part of that treasure to you mind in the form of memorized Scripture.  Memorize Bible verses for your treasure in life.
Thoughts On Why This is So Important
---
Psalm 119:11
I have stored your
word in my heart, 
that I might not sin 
against you.
Psalm 40:8
I delight to do
your will, O my 
God; your law is 
within my heart.
Psalm 37:31
The law of his
God is in his 
heart; his steps 
do not slip.
---
Here's what others have said about the discipline of memorizing Scripture. They help us to understand why this is so important.

"I am convinced that one of the greatest things we can do is to memorize Scripture."  Billy Graham
"Let us labor to memorize the Word of God – for worship and for warfare.  If we do not carry it in our heads, we cannot savor it in our hearts, or wield it in the Spirit."  John Piper
"I know of no other single practice in the Christian life more rewarding, practically speaking, than memorizing Scripture . . . No other single exercise pays greater spiritual dividends! Your prayer life will be strengthened."  Charles Swindoll
"We can . . .effectively fill our minds with the word of God, preserved in the scriptures.  To that end memorization is vital.  It's astonishing how little of the Bible is known 'by heart' by people who profess to honor it.  If we don't know it how can it help us, it cannot.  Memorization, by contrast, enables us to keep it constantly before our minds."  Dallas Willard
Memorize Bible Verses Because It's the Word of God
Because these are God's words, more important words have never been spoken.  This Bible verse expresses our view of the origin and nature of Scripture:
If God, the Creator of all the world, the Author of life, the Master-Designer of existence, has in fact revealed His truth in Scripture, wouldn't His words to you rank as the most important words you'll ever encounter? 
To my mind, that's exactly the case.  Doesn't it follow then, that we would value some of His statements of truth and His promises and His commands so highly that we would want to commit them to memory?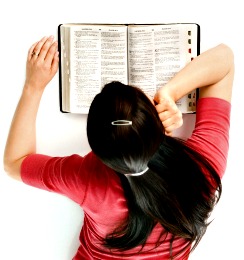 We watch commercials and movies until we can quote the next lines.  Shouldn't we want to know what God would say in the circumstances we face?  We listen to popular songs until we can sing along with them.  Shouldn't we also want to have a similar deep and profound familiarity with what God says to us?
Perhaps you invest time each day in scanning the internet or watching the news which is often out of date and irrelevant in 24 hours.  Wouldn't it be a better investment of time to focus on and store away some of the timeless, always relevant truths of God? 
By memorizing Scripture you're saying,
These words are so important I want to remember them always.
Moses understood when he received truth from God that it was absolutely indispensable for the future well-being and prosperity of the people of Israel.  So then, as recorded in Deuteronomy 11:18, he told the assembled multitude:  "Fix these words of mine in your hearts and minds."
Believers should likewise feel compelled to memorize Bible verses permanently and safely and securely in our minds.   Store Scripture in your mind so that it's always available to you. 

There will be many times when your well-being and prosperity depends on knowing what God said about how to think and feel and act in the face of the changing circumstances of life
As he neared the end of his life, Moses spoke one last time to the people:

Take to heart all the words I have solemnly declared to you this day, so that you may command your children to obey carefully all the words of this law.  They are not just idle words for you -- they are your life.
Deuteronomy 32:46 
God's Word Lives Today
The passage of time hasn't lessened the importance of the words that God has spoken.  They are life to us and some of these "words of life" deserve your commitment to memory.  All of God's Word is rich in its power to bestow blessing. 
In Psalm 19:7-11, six of the powerful, positive affects of the Word are listed.  No words from any other source has the ability to do what God's Word can do.

The law of the Lord is perfect, reviving the soul.  The statutes of the Lord are trustworthy, making wise the simple. (vs 7)
The precepts of the Lord are right, giving joy to the heart.  The commands of the Lord are radiant, giving light to the eyes. (vs 8)
They are more precious than gold,than much pure gold; They are sweeter than honey, than honey from the comb. (vs 10)
Here's a List of What the Word Can Do From the Passages Above
The Word brings fresh life to a soul that's experienced the deadening effect of sin (vs 7).
The Word brings wise insight for our decision making and understanding life (vs 7).
As the Word shows us the right way to live, we're able to know the joy of obedience, fruitfulness, and a connection with God (vs 8).
The Word brings life into our darkness, enabling us to understand the reality of God and the ways in which He would have us walk (vs 8).
The Word gives us warning, enabling us to avoid costly error (vs 11).
The Word makes possible the kind of right choices that can lead to great rewards (vs 11).
God's Word - Your Greatest Treasure
To memorize Bible verses is clearly a powerful discipline.  Scripture is unique and precious and worthy of memorization because it's the very Word of God.  
In the Bible studies on this website, you'll discover the rich benefits to you when you memorize Bible verses.  Also, you'll find some extremely encouraging insights that will show you that anyone can memorize Bible verses. 
You'll learn the techniques and practices that will launch you onto a lifetime journey of Scripture memory.  

 Why not start your journey to memorize Bible verses today?

Choose a Bible Study to Get Started
1st Lesson - Your starting place when it comes to learning how to memorize Scripture is choosing the best goal.  One of the keys to learning how to memorize Scripture is choosing a manageable goal that will lead to learning a verse for life.
2nd Lesson - Challenge yourself to memorize as much Scripture as possible using a secret weapon that you actually already know.  You've likely been using this technique since you were a small child.  Now you can use it to memorize Scripture!
3rd Lesson - Now that you've set your goal and you've got your technique down, it's time to put what you know into practice.  This is where you'll become blessed by God Himself as you let His Word soak into your heart and mind.
4th Lesson - No one accidentally succeeds at Bible memorization.  It takes work but you can with the right tools and the right process you can be successful sooner than you might realize.
5th Lesson - Want a quick and easy way to get to work on memorizing Bible verses?  This lesson provides you a wonderfully encouraging and helpful technique that you can use to memorize Scripture.  Part of learning how to memorize Scripture is learning useful strategies that can work easily for you. 
6th Lesson - When you memorize Bible verses it's tempting to be satisfied with a general idea of what a verse says and to then stop short of memorizing exactly what the verse says.  Use this technique to ignore the thought of letting yourself slide on this issue.  Getting the main idea or stumbling through a verse with guess work is not memorization! 
7th Lesson - Many feel compelled to push forward and see how quickly they can learn a verse and move on.  Resist this urge!  Use this technique instead.
8th Lesson - In this lesson we'll explore the great value to your life when you memorize Bible verses and the reasons to keep reviewing them on a daily basis.

According to Charles Swindoll, when you memorize Scripture, your: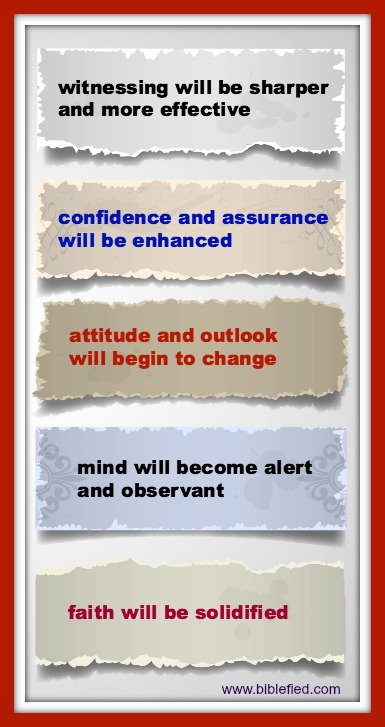 We pray these Bible study lessons will be helpful to you
as you learn how to memorize Bible verses.

References for this Bible study on how to memorize Bible verses included:


Bible Study Lessons

› Memorize Bible Verses